How DiSC® Profiles Work
Everything DiSC® and DiSC® Classic by Wiley, (formerly Inscape) are the world's most popular personality assessments on the market. DiSC® Profile Assessments have earned that reputation because of their reliability, simplicity, and ease of use – both for the respondent and the administrator.
Understanding People's Personal Styles
No certification is required to deliver or score the test. However, DiSC® Training Certification is available through Wiley. For credentials, trainer confidence, and skill, DiSC® Certification by Wiley is an option.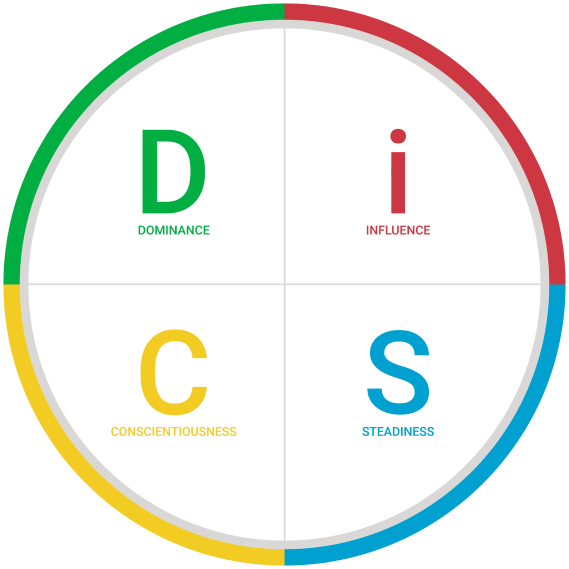 What is a DiSC® Profile?
DiSC® Profile is a personal assessment used to identify and measure an individual's DiSC® behavioral style. The behavior occurs as a result of unique and distinct ways of thinking, feeling, and acting. It is an expression of identity – it distinguishes one individual from another – much like your fingerprint.
The workplace has evolved, and so have DiSC® Profiles. Most recently, Everything DiSC® Profiles were developed by Inscape, to help people better understand their work relationships. The topic-specific Everything DiSC® Profiles and Seminars is specifically designed for WORKPLACE TEAMS, MANAGEMENT, SALES, LEADERSHIP, CONFLICT RESOLUTION, and, EMOTIONAL INTELLIGENCE (EQ).
Responding to a DiSC® Profile
DiSC® Profiles Online is delivered via EPIC: (Electronic Profile Information Center) EPIC is a simple and efficient system for delivering DiSC® profiles electronically.
With DiSC® Profiles online, you receive an email containing a link or access code that allows you to respond to the profile questionnaire right on your own PC. All online profiles are electronically scored – saving time and ensuring accuracy.
It is important to understand that DiSC® is non-judgmental. You are the authority or the expert on yourself. There are no wrong answers, and there are no bad profiles. Just read the questions and respond… spontaneous answers are most accurate.
Everything DiSC® Response Forms use a rating scale for first-choice response to each of the 79 words in the questionnaire.
DiSC® Classic 2.0 online uses a forced-choice response to each of the 28 boxes of words on the questionnaire. Everything DiSC® uses adaptive testing that yields the most accurate reports available today. You respond by checking one word that describes you MOST, and one word that describes you LEAST.
DiSC® Classic Paper Profiles also uses a MOST / LEAST forced choice option. There are response instructions and there is a simple self-scoring method explained within the profile.
DiSC® Profile Online Reports
After responding to the DiSC® questionnaire online, a profile report is generated. You will be able to read about your unique behavioral style. It will highlight your naturally occurring tendencies; needs; preferred environment and strategies for increasing effectiveness. In short, you will learn about your strengths and your potential limitations.
The reports include information about all of the DiSC® styles, so you will gain insight into the behaviors of others as well.
Group Facilitator Reports: Work teams benefit by using the Group Facilitator Reports that are available for observing and discussing primary DiSC® styles present within your team.
Everything DiSC® Group Culture Report Sample
What do DiSC® Profiles Measure?
DiSC® profiles measure personality and behavior within a focused environment. Your personality is expressed through your behaviors. DiSC® does not measure intelligence, values, aptitudes, or mental health condition. DiSC® Profiles describes human behaviors used within a focused environment.
Behavior is flexible – it can be coached. And you can learn to adapt your own behaviors to be more effective with people of differing styles. You can choose to move out of your comfort zone and choose behaviors that will be more effective in a given situation.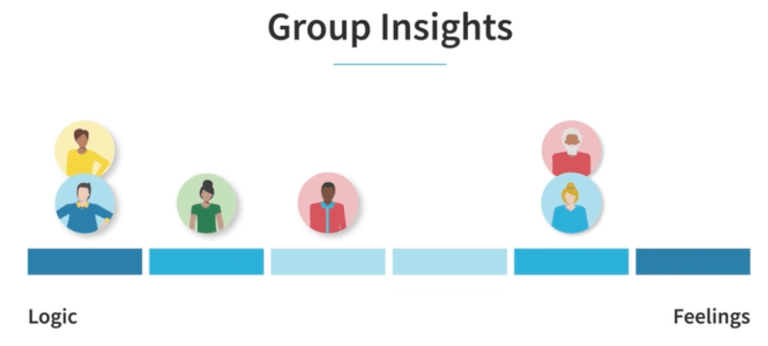 Success at Work
Research tells us that successful people understand their own behaviors, and are able to adapt their DiSC® behavioral style to meet the needs of people and their environment. The DiSC® Profile Test helps to create environments that are conducive to workplace success.